Cloud hosting is now becoming the commonly used hosting for websites and applications to get maximum stability and performance. Compared to shared servers, cloud storage backed by a bunch of server located around the world strategically to deliver outstanding performance. Nowadays, there are many cheap cloud hosting companies that offer insanely affordable, reliable, and cheap cloud server with a lot of features.
10 Best Cheap Cloud Hosting Providers 2019
Vultr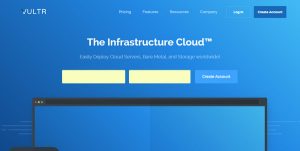 Vultr offers feature-rich cheapest cloud hosting services come with different plans to meet the needs of all kind of users ranging from individual clients to enterprises. The company has one of the elegant cloud platform built with high-end hardware and performance optimized system software. The packages all start from as low as $2.5/mo to as high as $60/mo. This range incorporates different packages designed with keeping in view the distinct groups of cloud users.
The bandwidth for these packages ranges from 0.5TB to 10TB and the memory from 512MB to 64GB. The SSD storage space starts from 20GB and goes to as high as 400GB. Also, a minimum of one CPU and a maximum of 16 CPUs are what can be connected to these servers with these packages so users can decide accordingly which combination suits them best.
Also, Vultr bills its customers by the hour for all of its products and services alike. The company insists that it's one of the best service providers in the industry as it has as many as 15 data centers which are strategically located the world over. It argues that the benefit of doing so is to bring the company closer to the major city centers of the world, which is beneficial for the users of the company.
Also, for all of its data centers scattered around the world, the host ensures that they all experience 100% network uptime and remain online throughout. In that way, you launch the cheapest cloud VM all around the world in a fraction of a few seconds.
Vultr also boasts of an excellent and exhaustive customer support service for all its existing and potential clients. It claims to answer about twenty-five thousand [25k] queries per month which is more than 800 questions in a single day, on average. Anyways, this must be great news for those who always have lots and lots of questions on their mind and look towards having them all answered in a prompt fashion.
The company is of the view that it should offer high quality cloud hosting services to customers while lowering the costs of storage for them. They incorporated the latest Skylake processor architecture into all product line to deliver 50% performance boost. That said, each customer gets top-notch cloud servers powered by a reliable infrastructure and reliable uptime guarantee.
1and1

The 1and1 web hosting service offers yet another combination of benefits to users which starts from a low of $7.99/year to a high of $14.99/year. The company also sells other services along with cheap cloud hosting service and each comes in its own packages and costs. They include services such as website building, WordPress hosting, professional email hosting, Microsoft Office 365, online marketing, web security, and more.
A one month free trial is offered so to allow users to do away with their doubts and insecurities in their minds. 1and1 will try and make sure that the users get the very best of web hosting form the company.
Among the three packages that are offered, include the following:
BASIC
UNLIMITED PLUS
UNLIMITED PRO
They include highlights such as the scalable performance from level 1 up to level 3. The RAM for each of the package is 2.5GB, 6GB, and 9GB, respectively. The websites which can be hosted range from single to unlimited. The email accounts that can be used range from a minimum of 500 to unlimited email accounts. Also, the SSL Wildcard certificate is included into each of the packages which is a new feature that has been introduced by 1and1.
24/7 customer support is also available for customers so all their concerns can be taken care of by the technical staff at the company. In addition to that, the UNLIMITED PRO package also features two things that are not offered in their other two packages namely SiteLock Basic and CDN with Railgun.
Other random benefits offered include HTTP/2, PH7.2/OPcache, PHP memory Limit of up to 768 MB, Gzip, DDoS protection, Geo-Redundancy, Content Delivery Network [CDN] et cetera.
InterServer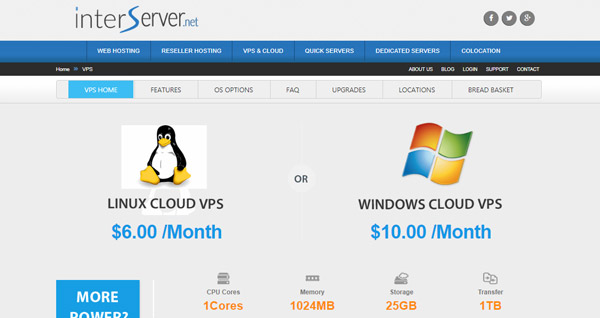 InterServer is an affordable cloud VPS provider which offers its users a number of useful features. The company is owned and operated privately and has been running for the past 19 years in Secaucus, NJ.
They offer various packages namely ASP.NET which starts from $5/month, includes an easy to operate control panel, optimization for speed, unlimited disk space, and free website migration.
The other package is called VPS SPECIAL which is charged at $6/month and which has to offer 1GB of RAM and 25GBs of storage, compatibility with a host of different operating systems, control panels for direct admin access by users and instant activation of the service.
The third package is called DEDICATED, is priced at $50/month, and offers features such as Intel Dual Core Atom processing, 1GB of Memory, a solid state hard drive of 250 GB and also a guarantee for hardware replacement should any of its parts get corrupted.
Additional benefits which are accrued to customers include a 30-day guarantee for their money back into their wallet as well as a price lock guarantee. Where most of the companies only offer such refund policy for shared hosting, InterServer also offers for cloud hosting as well. They would not be charged any hidden cost in excess of the price that is shown to them at the time of signing up for the InterServer.
To add to that, an uptime guarantee is also in place which ensures that the clients all get the best uptime for their websites and that there is Next to Nil chance of their websites not being LIVE on the World  Wide Web.
Unlimited ultra SSD storage (shared plans), website builder, unlimited email accounts, global caching are also on the list of benefits available to users. Also, around the clock customer support service is in place which takes to all kinds of questions and complaints from customers. It includes phone as well as live chat support and also a ticket complaint which is then taken up by a representative shortly after being lodged. Alongside the cheapest Linux cloud hosting, they also provide cheap Windows cloud servers, so one can deploy Windows development environment at lowest possible rates.
A2Hosting – Fastest Web Hosting with 99.99% Uptime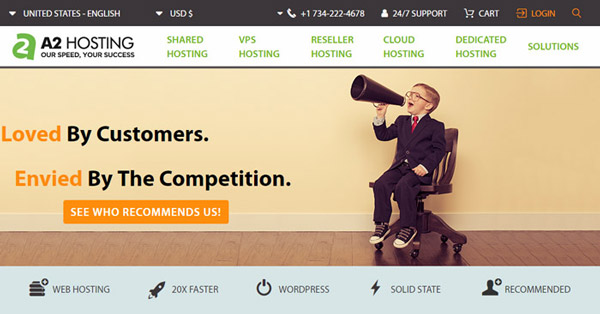 A2Hosting.com is a fast web hosting service which promises its users that it would offer them the very best of the cloud computing service which is as much as 20X times faster than any regular web hosting service provider.
The company also proposes a host of additional benefits to go with it. One is that there is practically unlimited disk space that is offered to users so they don't have to worry about disk space at all. They can rest assured that they are not going to face a shortage of space for their data, for all practical purposes.
Next comes the feature of unlimited bandwidth which is also provided in combination with unlimited disk space and can be very useful for a host of user requirements as it can suit their needs in some way or the other.
A2hosting also suggests to its clients the feature of free Solid State Drives [SSD] which means that they do not have to buy them should they need them for their work purposes.
In addition to that, the 1-Click Script Installs is what features in the packages of the company and which can lend a helping hand to web admins.
The other thing is that A2Hosting guarantees its customers with a 99.9% uptime, implies means that their work would not be delayed because of a low uptime. This is because downtime would undoubtedly upset their work routine that they have set themselves.
In addition to all else, the company offers best cheap cloud hosting for both Windows as well as Linux operating systems and is compatible with both equally, so users should not be worried about facing any kind of glitches while working with Linux. You can avail a cloud server just at $5/month which is one of the most affordable and cheapest cloud instances one can deploy with 1 CPU Core, 20GB SSD space, 2TB bandwidth, and 512MB RAM. It also includes root access and anytime money back guarantee (pro-rated).
Further to this, the 24/7/365 customer support is made available by the company to all its customers so they get timely and appropriate answers to all their questions as and when they need them, be advised.
If any of the customers are still unhappy with the level of service that they are getting, they are eligible for a refund as the company's money back guarantee for its web hosting services is in place for disgruntled customers and they can make good use of it.
DigitalOcean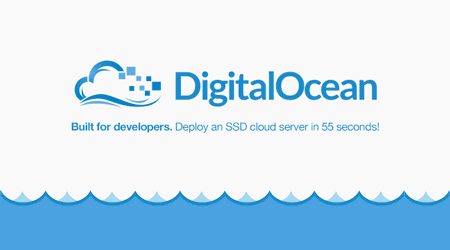 DigitalOcean claims to deliver high quality affordable cloud hosting backed by cutting-edge hardware but at affordable rates. That said, users can easily bear the monthly cost of cloud services yet benefit all the advanced features provided by the company to host their blogs as well as apps.
The per month cost of the service starts at $5/mo, it includes 25 GB SSD storage, and if you need additional space, an extra $0.02/GB will be charged. Also, there is an allowance of 1 TB of outbound data transferred per month. Likewise, if outbound data is transferred more than 1 TB, then additional charges of $0.01/GB are levied.
Also, for uploads to spaces, there is no fee charged for them as they are absolutely free of charge for all users. What's more? All of this is free for 2 months' time so users can experience it and make up their minds if they're really up for it.
More so, the DigitalOcean web hosting services can be used in combination with other services offered by the company, and there is no hassle in doing so for anyone.
The security level for the data stored over DigitalOcean cloud hosting is high so users can easily store data online without any worries of having it compromised in any way whatsoever. The latest security protocols are in place to ensure that such an occurrence is not probable to take place anytime soon. So far, they are the cheapest cloud hosting provider compared to many others.
The user interface employed by the company is also straightforward since all that it involves a few mouse clicks to execute needed actions. So basically the interface is user-friendly and is expected to strike a chord with users. With this interface, users can also easily store their logs for analysis later on. Besides, all the files, websites, media, and databases can be stored as backups with a low-cost and a strong circle of security around it. Likewise, archives and app data can all be handled with ease over the DigitalOcean platform. If you don't find them interested then following cloud server alternatives for DigitalOcean might help you pick the right company.
CloudSigma
CloudSigma offers cheap cloud server for users looking to a good cloud storage provider that helps meet all their requirements. The company also offers the following services free of charge:
Free 24/7 customer support
Free Firewalls
Free IOPS
Free API Calls
There are as many as four different options for form server sizing available which can be opted for by clients. These range from $14/mo to $96/mo and there is also the option of a 7 day free trial.
Also, the four combinations of cloud resource sizing are offered to web admins ranging from $203 to $677.
CloudSigma also allows its users to calculate their custom cloud infrastructure so they can apprise the company about the specific unique needs that they have and get a quote from it.
The focus of CloudSigma is to offer features that allow for it to optimize the computing power so that users and their incoming traffic can get the most out of the benefits that the company has to offer with its cloud based services.
The company's cloud hosting service is certified by ISO 27001. This should assure its users that all of their data is safe and sound with the company. All of the crucial and necessary security protocols are in place to ensure that no breaches of data take place from the company's servers.
Then there is also the option of "All 10GigE Networking", which lets users run heavy videos from the company's databases at high speeds, without any buffering.
A wide resource range is what the company has to offer to clients as CloudSigma offers as many as 40 cores of CPU to clients with each server armed with a RAM of128GB! This can be a very useful feature for those who might as well wish to take full advantage out of it.
The hardware employed by the company is modern and is coupled with CPU customization so to become an even more effective tool when it comes to serving customers to as high a level as may be practically possible.
CloudWays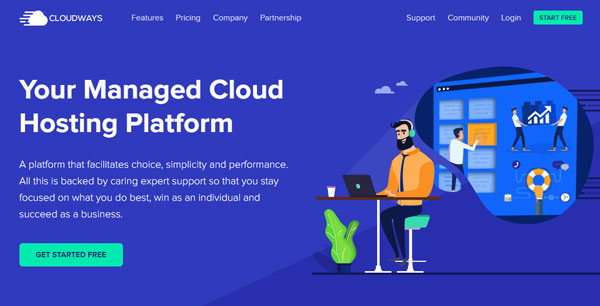 CloudWays is the best cheap managed cloud hosting provider that offers a very convenient platform for all its users to use cloud instances for their needs. The company has a focus on simplicity to keep things clear and easy for all its users so they can avoid being confused by the various packages on offer and get hold of the one that is best for all of their needs combined.
All kinds and types of PHP apps are readily supported by the host so there are no worries for users when it comes to running a PHP app.
The control panel is also very innovative such that it allows for ease of control of the hosting platform, with a sense of creativity and modernity.
Coming to support, CloudWays has to offer 24/7 expert support to users which by definition means that experts would be handling their complaints and queries so they can be solved speedily and effectively.
Next, the managed backups and security are part and parcel of the cloud hosting service which allows for the protection of the data stored over them.
The company focuses on the performance stats that give an indication of how well the cloud server may be rated. For this purpose, it focuses on advanced caching and optimized stack.
In addition to that, the PHP 7 ready servers and CloudWaysCDN act as performance multipliers for an excellent and satisfying user experience that speaks of hard work and investment on the part of the company. CloudWaysalways has a focus on minimizing the worry level of clients and giving them more freedom instead, so they can do better business courtesy of its cloud platform.
Linode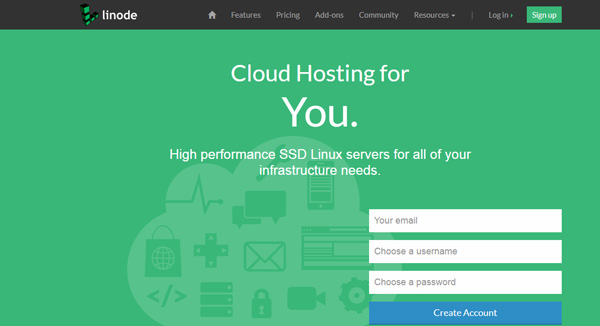 Linode is yet another cheapest cloud hosting which claims to be one of the best in the industry owing to its fastest hardware as well as network that it claims is unmatched in the market.
The company also boasts of an excellent customer support service which is always on standby 24/7 so to respond to any and all kinds of customer queries immediately.
There are different plans that are offered to meet the many different requirements of potential customers aiming that each customer would almost certainly fall into one of the many plans on offer.
The plans are available for a long list of operating systems so users need not worry about the compatibility of their OS.
The standard plans start from $5/month and go up to $80/month while the high memory plans offered by the company begin with$60/month and go up to $960/month.
To add to that, SSD storage, 40Gbit Network, and Intel E5 Processors are amongst the features of the cloud hosting plans. Further to this, Linode provides users with all the necessary tools that they need to make optimum use of the cloud service which has the effect of boosting their overall performance. These include, among other tools, API, StackScripts, CLI, Backups, NodeBalancers, Longview, and Linode Managed, et cetera.
Also, uptime has immense importance when it comes to cloud web hosting and the company promises all its users that it would offer them 99.9% uptime so they have no fear of their websites going offline while using Linode.
The company's customer support would take care of the rest should users have to face problems of any kind in the course of hosting their websites over the servers of the company. The support would ensure that their queries are resolved at the earliest time period. You might loves to check these best Linode alternatives for diferrent cloud hosting companies.
ToggleBox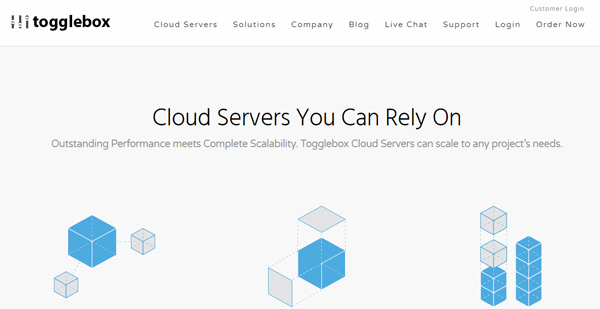 ToggleBox is an excellent inexpensive cloud hosting provider which offers its services based on scalability. So much so that the company claims that it can scale to the unique needs and demands of any project, no matter what its size. Courtesy of instant scalability, as the size of space that a project required increases exponentially over time, so does the size of servers so to keep the project up and running with the same speed and agility.
Since every project is based on scalability, therefore, there are no fixed pricing plans made available. An online calculator can be used by potential users to estimate their costs which is what each of them would be charged by ToggleBox, instead of the same plan for everyone.
There are also arrangements made in the event of a hardware fail, in which case the cloud server hosting the websites is activated with the help of spare hardware nodes so that there is no interruption in the hosting and it can go on uninterrupted.
There is also the feature of a virtual data center which is available to users who can use it to their advantage, being able to configure the best use of the resource they have purchased.
Other benefits that ToggleBox offers to users include high performing hardware that is made available at a relatively cheap cost. In addition, there is noticeable cost saving for users in the form of high performance services charged at a minimal profit level.
Also, there is a choice available to users of being able to select from a large number of Windows as well as Linux based templates.
To add to that, the cloud platform is both highly scalable as well as customizable for the good benefit of all users concerned. Not the least, SANs and networking employed for the sake of hosting are fully reliable which is a big plus for users for sure.
Host1Plus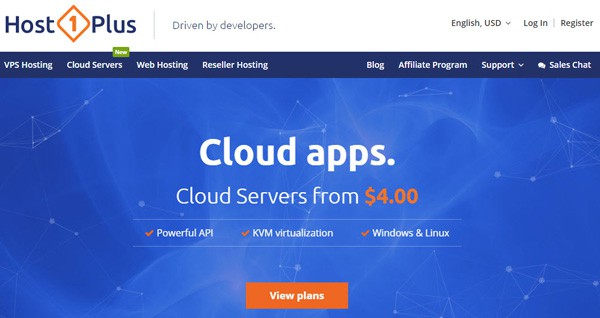 Host1Plus offer cheap cloud vps servers to interested users. The company claims that it provides all its customers with state-of-the-art hardware from Dell, Supermicro, Intel, and Toshiba.
It ensures that the users do not have to face any kind of technical glitches, should they occur, and that it is Host1Plus that takes care of them immediately with the help of its extended SLAs. In addition to that, Host1Plus has a focus on helping users save their costs with the help of cloud computing through standardized processes, improved provisioning, high utilization and a reduction in the error detection and troubleshooting time.
Additional features include a powerful API which let the users directly access web control panel and benefit from the networking options that are available there. Also, pre-installed templates are another benefit that are provided and that help users manage their websites in a much easier manner, relatively speaking.
Next, there is the benefit of DNS management which allows for the easy creation of domain zones and the editing of records. In addition, there is the feature of auto-backups which allows users to schedule backups as and when they see fit to ensure that all of their data is safe and secure from being lost.
Further, the Rescue mode option lets customers use the safe environment of the Rescue mode to perform system recovery and disk management in the event that they suspect that the primary filesystem has been corrupted. Additional benefits include Live Stats, SSH Keys, Custom ISO, run's control and IP Geolocation, IPv6 Enabled, VNC Console, 10G Network, IP Assignment, Multiple IPv4 Addresses and more. No doubt, they are not a cheap cloud hosting provider but each of your penny worth it.
More Cheap Cloud Server Providers:
Cloudwith.me
Amazon LightSail
VPSdime
All of above are affordable and cheap cloud web hosting providers offering great plans and VM machines for all users at reasonable prices. It is best to know how much resources you need before paying for any plan. However, many hosts mentioned in the above list also provide custom plan options where you can choose require RAM, CPU, and storage as well as monthly bandwidth. In that way, you'll pay only for useful services rather than paying useless or unused features.